Teenagers know that their parents can embarrass them at any time, especially some particularly clever dads, so any occasion is a good laugh. However, when it comes to boys and outings, the cumbersome presence of parents is even less welcomed by the very young. In a video circulating the web, a dad turns to a waiter at a restaurant and tells him what his daughter thinks of him. The girl, of course, was so embarrassed that she wanted to hide underground.
Image: TikTok/keemokazi
The hilarious scene took place at a restaurant where a cheerful family was having dinner. Obviously, the girl must have commented on the appearance of one of the two waiters serving their table, showing that she appreciated the good looks of the young man. A comment that should have remained "secret": it was a confidence that the young woman had made at the table, in the presence of her parents. The father, however, believing he was helping him, voluntarily stopped the waiter to tell him that his daughter thought he was very cute. The video of the scene, filmed by her sister, is hilarious.
'Excuse me waiter, my daughter thinks you are very cute', says the father under the petrified gaze of his daughter. In the background, we can already hear the fat laughter of the girl's sister, who is filming the scene.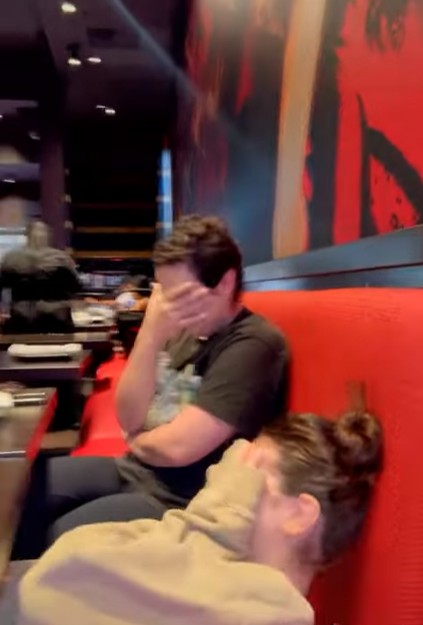 Image: TikTok/keemokazi
In the video, we see the waiter who, surprised by these words – perhaps he was expecting a request for the kitchen instead of a compliment – ​​puts his hand to his chest, in thanks for these beautiful words. . The girl is in total embarrassment : we hear her shout "Daddy stop!", while with one hand she covers her face in shame. The father, not content to embarrass his daughter, went on to ask the waiter what her first name was. The young man, meanwhile, seemed genuinely amused by the scene and thanked him for the compliments. The young girl would have preferred to disappear from the face of the earth at that moment! It's no coincidence that she hides under the restaurant table, while her father exchanges a few more words with the young waiter.
The video has reached over 8 million views and we are sure it will put a smile on your face. Have you ever embarrassed your children like this?