Dogs are such loving and protective animals, especially towards young children. There have been many times when a child was lost and in danger, only to be found with his faithful dog protecting him.
That's what happened recently, after two young girls went missing, but luckily their golden retriever was their guardian.
Justin and Mary Bourg, of Folsom, Louisiana, experienced every parent's worst nightmare last month after their two daughters, Abigail, 7, and Cecilia, 4, went missing.
This feeling of "Oh my God, what can happen to them, where are they? You start to feel the worst in those few, too long seconds," Mary said.
The mother issued an urgent appeal on Facebook, explaining that the girls had disappeared from their property and were accompanied by their golden retriever, Artemis. She wrote that the police and residents of the community were looking for her daughters.
"Please pray that our babies come home safe and sound," she wrote.
The search team used ATVs, drones, helicopters and dozens of volunteers. But in the end, it was the golden retriever who helped guide them to the right place.
This help proved crucial, as the girls were in a deep, dark part of the woods and it would have been harder to locate them otherwise.
The girls were eventually found, and it was clear that Artemis had been protecting them all this time. "At first he even growled at the police because he was protecting our babies," writes Mary.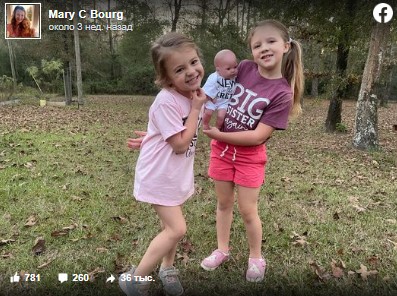 The father said the girls were about three or four hundred yards from the house, and he is grateful that they knew how to stay put when they got lost, saying that "Jesus took the reins and gave them a little peace and direction".
While the girls waited to be found, Artemis was their watchful protector: Mary wrote that the dog probably protected them from the feral pigs in the area.
"It was tough, I told them it was probably the biggest tears I've shed in the last 20 years," Justin shared. "I don't want to traumatize them, I want to keep that adventurer mentality but also have a head about it and be smart."
They thanked everyone involved in the search mission, while also thanking their "hero" dog Artemis. In a follow-up post, Mary shared a photo of one of her daughters cuddling with Artemis: "She still doesn't want to leave him."
What a miracle – we're so glad these girls were found safe and sound, and had the faithful dog Artemis by their side to protect them.