As Erica stood on a beach promenade in Portugal waiting for her meal, she suddenly saw something that caught her eye.
She quickly realized the significance of the moment she was witnessing and immediately grabbed the camera.
"Cutest thing I've ever seen in my life," she says in the video on her TikTok.
We humans live pretty stressful lives most of the time.
Between work, chores, and obligations, it can sometimes be hard to remember to stop and enjoy the good times.
But the truth is that there is so much goodness and love and beauty in this world.
Something Erica remembered one night, to put it mildly, as she waited for her meal.
"Cutest thing I've ever seen"
Erica has a TikTok account where she shares various thoughts and events in her life.
One day, she was on the edge of the beach and was waiting for the meal she had ordered in a restaurant, when she suddenly saw a man and his dog.
She quickly picked up her cell phone.
Crying, she started filming: "Do you want to see the cutest thing I've ever seen in my entire life? Erica says as tears roll down her cheeks.
Photo: Tiktok/ itserikaeileen
We enjoyed the sunset together
As she turns the camera, the man and his beloved dog share a very special moment.
The man embraces his best friend and together they enjoy the sunset on a bench by the beach.
The dog happily wags its tail and leans affectionately towards its master.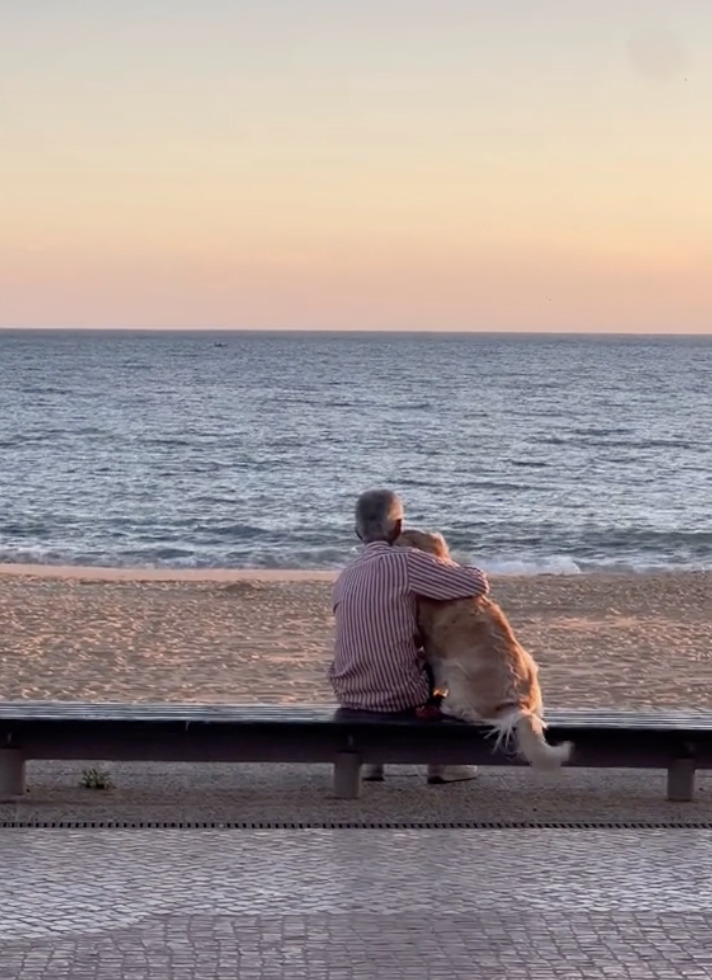 Photo: Tiktok/ itserikaeileen
With music playing in the background and an orange sun, they sit by the water, and the love between them is undeniable.
Erica wipes away a few tears and says, "I sometimes say I hate this world, but this one was special. »
Over 25 million views on the video
The video completely blew up on the app and over 25 million people viewed it.
In the comments section, many people were very moved by this project.
"What a beautiful moment. The love of a dog is something special. »
"This is what the kingdom of heaven looks like to me. »
"Thank you for taking the time to film something so beautiful. The world needs more of this. »
"I started crying. »
The way she found the man
Erica took pictures of the man and the dog, she wanted to go see him and ask if she could send them to him.
But then the restaurant staff came out and asked her to come in and pay. When she came out, they were gone.
But as the video spread widely, she managed to get her hands on one of the man's former students, who turned out to have worked as a music teacher.
"We spoke on Instagram, where she told me some great stories about the man and his dog. So I ended up sending her all the photos and videos, and she sent it all to him this morning. He was super grateful and so happy. He had seen and heard about the video from someone else, but he had no idea that it had gone super-mega-viral. So he is very happy and grateful for all the love he receives," Erica says in a video on her Tiktok.
You can watch the video here:
@itserikaeileen Literally can't stop crying my eyes out #wholesomemoment #portugal #traveltiktok ♬ original sound – Erika | Confidence & Pleasure
It's incredibly beautiful!