In Turkey, rescue operations continue to try to find people who would have survived the earthquake. More than 90 hours after the earthquake, a woman and her 10-day-old baby were found alive.
Monday, February 6, a major earthquake hit Turkey, in the south-east of the country. This Friday, the very heavy toll is estimated at more than 21,000 dead. Since the earthquake, rescue operations have multiplied to try to find survivors who would have survived under the rubble.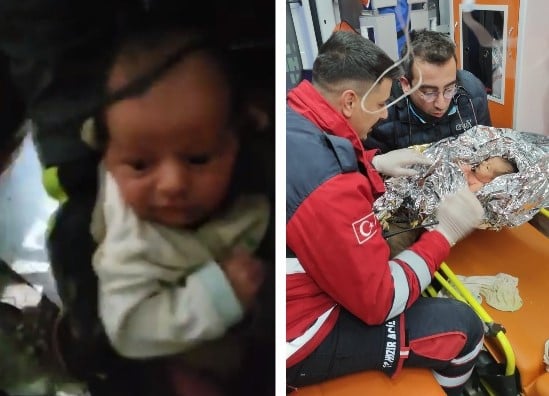 Photo credit: @ewither / @imamoglu_int
While a little girl and her little brother were recently rescued from the rubble, two new miracles were discovered this Friday, February 10.
10-day-old baby survived
90 hours after the earthquake, a 10-day-old baby and his mother were found alive. They were discovered under the ruins of a building that collapsed after the tremors in the locality of Samandag, in the province of Hatay. The baby was immediately wrapped in a thermal blanket when he was discovered and his mother was also cared for
Baby Yagiz Ulas rescued after 90 hours under rubble. Source: Istanbul municipality fire department #TurkeyQuake pic.twitter.com/zvN0GT6nkp

— Emily Wither (@ewither) February 10, 2023
Stranded for more than three days, it's a real miracle that this baby and his mother are still alive.
Other miracles were discovered this Friday. In Diyarbakir, a woman and her son were rescued alive from being trapped under the rubble of a 10-storey building. A man, who was stuck for 101 hours, was also extracted from the ruins. It took rescuers 10 hours to free him from a concrete block.
Relentless work that has saved lives.